What's Driving You?
Programme
Creative Team
Ted - Andrew Bruce-Lockhart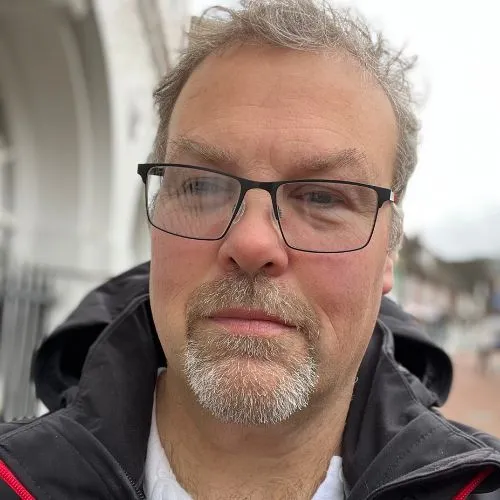 Andrew is film and theatre director. This is his first outing into acting on stage.
Writer - A G Anderson - is a playwright based in the south east of England, with several plays to their name.  Andrew and AG met on Twitter a few years ago. This is A G's second work to be directed by Andrew  and to feature Malcolm Jeffries. The first, Detachment, was a ten minute drama, shot in lockdown and featured in theSpace's 1st online season, during the cancelled EdFringe of 2019, picking up an OffWestEnd, OnComm nomination. It can be found here.
Director - Julia Stubbs - I'm a London-based director and producer working in theatre, new writing and short films. I am also the Artistic Director of 20 South Street, a creative home for collaboration between artists, founded in 2010 through my admiration of the ethos behind practitioners such as Robert Lepage, Declan Donnellan, Katie Mitchell, and Steppenwolf Theatre Company. You can read more at www.20southstreet.co.uk.
New writing and collaborating with writers to develop their work have been a core part of my career as a producer and director. This began when I was Joint Artistic Director of the new writing/new work company Weaver Hughes Ensemble from 1997-2009 and continues in my work at 20 South Street and in my role as an Artistic Associate at the award-winning London fringe venue, the Jack Studio Theatre.
Recent directing in theatre includes the autobiographical musical Seven and a half Years by Mark Glenworth in London and at the Edinburgh Fringe; and I'm currently in post-production on TO WOMB IT MAY CONCERN by Georgia Lovell, an original short film I have produced and directed.
The Play
What's Driving You?, a 75-minute improv drama about the impact of speed on driving, explores the issue of what happens when you can't take responsibility for your actions. Will your mind let you 'get away with it'? Find out in this Blueberry Goose Theatre Group production, devised by A G Anderson with Andrew Bruce-Lockhart, at London's Applecart Arts from 28 February to 4 March 2023.
Ted has delivered his What's Driving You? talk 2191 times over the last 10 years. Today, forgotten events from Ted's past threaten to overwhelm him. Struggling with what's real and what's not, Ted tries to deliver what might prove to be his last talk – if his troubled mind will let him.
Directed by Julia Stubbs, What's Driving You? uses the vehicle of Ted's multimedia talk about the effects of speeding on our lives as a background against which Ted's struggles play out. It features audience interaction and involvement, in observation tasks and interactions on facts and figures, video and quizzes inspired by the real speed awareness courses.
Ted's talk highlights the importance of being aware of your speed and the effect speeding can have on you and others, and may possibly encourage you, as Ted would say, to "drive like it matters". You can even check out Ted's website HERE.
A G Anderson last worked with Blueberry Goose Theatre Group when they penned the four-star show 1:2:2192 Retribution Day that premiered at the Edinburgh Festival Fringe in 2022. A director and producer of film and theatre, the production features Andrew Bruce-Lockhart in his first acting role.
Anderson said: "When I devised the piece, I originally conceived it as a straight talk on speed awareness. I remembered the content of my speed awareness course so vividly and really felt it should be something every driver hears.
"When I spoke about the idea of the piece to a director and actor friends I have worked with, they suggested a 'but what if' scenario, that immediately appealed to me. What if the narrator of said talk, is unreliable? And so, this show was born."
Improv drama What's Driving You? takes its inspiration from when Anderson was caught speeding and attended a speed awareness course, instead of having points on their license. The subjects and facts shared on the course stuck with Anderson for years. This piece re-tells some of these details but puts its delivery in the hands of someone clearly struggling with keeping themselves together, while in full public view on a stage.